The RB44 was developed in the late 1970s with the aim of taking over medium four wheel drive duties as carried out by the 1-ton and 101" Land Rovers, such as towing the 105mm light gun and other equipment cross-country. There are some in the hands of local authorities and public utilities, this one being an emergency rescue vehicle.
The RB44 has a conventional ladder chassis, live axles, and leaf springs over those axles. Drive passes from the gearbox by a short propeller shaft to a Reynold Boughton transfer case. This uses a full-time four wheel drive system with diff' lock. The transfer case has two power take offs (PTO) for driving auxiliary equipment.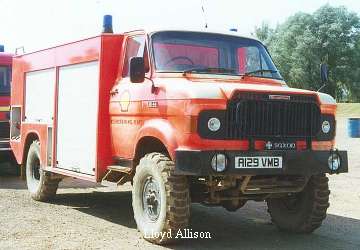 The interior of the RB44 is just like any conventional (fairly-) modern van apart for the extra controls for four wheel drive and selecting the auxiliary equipment. It is quite a big vehicle, particularly on its 9.00x16 (34") tyres.
chassis / pickup / van, 3 seats, 2 doors

loa 5270mm (SWB), width 2120mm, height 2310mm (cab)

wheelbase 3300mm (SWB), track 1790mm/1755mm

approach 45°, departure 40°

weight 2050kg (cab-chassis, unladen), GVM 5000kg

Ford, 3L, petrol, V6, 2-valves/cyl, ohv

power 100hp at 4750rpm

transmission 4m/3a (Ford 4-310 or C-3), 2-speed transfer case by RB, full-time 4WD with diff lock, final drive 5.86:1.

suspension live-leaf/live-leaf, brakes drum/drum

tyres 9.00x16

Note:

Ford 2.8L V6 and Ford 3.5L diesel engines also available
Wheelbase options SWB 3300mm, MWB 3680mm, LWB 3960mm
Later, Perkins 4-litre Phaser 110MT diesel.

Rivals Land-Rover 101", Steyr Pinzgauer, Stonefield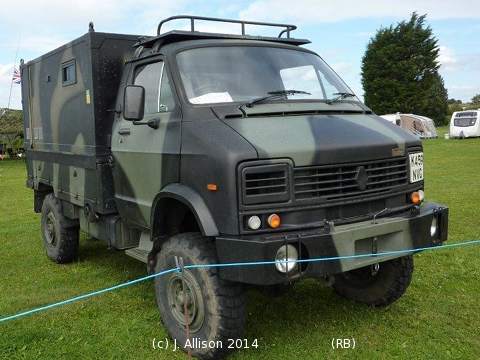 in 2014
Production of the RB44 ended in 1993.