The Pinzgauer has a back-bone chassis which contains the main drive shaft. The front-mounted engine sits to the right of the back-bone driving the gearbox and thence, via a short propeller shaft, the transfer-case which takes the drive to the centre line of the back-bone. The swing-axles pivot around the backbone. The differentials are unusual in having two crown wheels - one attached to each half-shaft. This arrangement means that no universal joints are needed in the axles, apart from one in each steering swivel. Tatra high-mobility trucks have a similar design. The axles are of the "portal" type for excellent ground clearance and incorporate reduction gearing. Each axle has a differential lock which is hydraulically controlled by a lever on the dash-board.
Early Pinzgauers have a 4-cylinder air-cooled Steyr motor. Later Turbo-D Pinzgauers use a turbo-charged water-cooled Volkswagen diesel engine; these vehicles are easily identified by the short snout and grille for the radiator - L. A11ison
710M 4×4 1971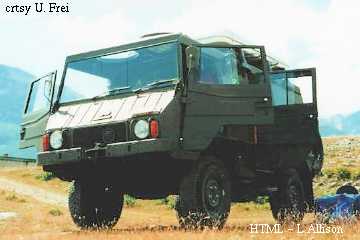 710
1971 Pinzgauer 710M

Loa 4175mm, width 1760mm, height 2045mm

Wheelbase 2200mm, track 1440mm/ 1440mm, grnd clearance 330mm

Approach 45&deg, departure 45&deg, ramp break over 135&deg

Weight 1950kg (unladen), GVM 3100kg

Engine 2499cc, 4-cyl, petrol (87 RON), 2-valves/cyl, air-cooled, bore 92mm, stroke 94mm, c.r. 7.5:1 (or 7.8:1)

Power 67kW (or 64kW) at 4000rpm, torque 180Nm at 2000rpm
firing order 1-2-4-3, I opens 4°before TDC, I opens 40° before BDC, E opens 40° before BDC, E closes 4° after TDC
forced feed type lubrication by twin gear pump.
two twin cross-country down-draught carburettors, Solex 36 NDIX

Gearbox ZF 5-speed, 2-speed transfer-case high 0.88 & low 1.69, part-time 4WD, front and rear axle diff' locks, portal axles with hub-reduction gearing

1st 5.33, R: 19 km/h, O-R: 10 km/h, 2nd 3.24, R: 32 km/h, O-R: 17 km/h, 3rd 2.04, R: 51 km/h, O-R: 27 km/h, 4th 1.30, R: 80 km/h, O-R: 42 km/h, 5th 1.0, R: 100 km/h, O-R: 54 km/h, rev' 5.47, R: 19 km/h, O-R: 10 km/h

ZF-Gemmer 7330 steering, turning diameter 9.5m (curb), 10.7m (wall)

Suspension by swing axles and coil springs front and rear

Brakes drum/ drum, front twin leading shoe, rear leading/ trailing

Fuel consumption about 17L/100km on-road

Tyres 6.50 K × 16, fuel-tank 75L

Rivals: Land-Rover 101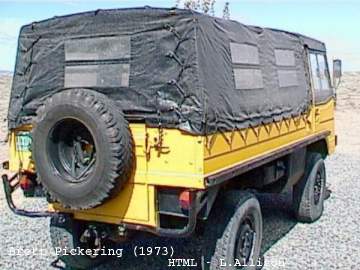 712
712M 6×6 1971
712

Similar to 710M except

Loa 4810mm, weight 2000kg (unladen)

GVM 3500kg

Wheelbase 2000mm + 980mm

Suspension swing axles all round, coils springs front, leaf springs rear (load sharing)

Tyres 8.25 × 16

712

6x6 van

Pinzgauer TurboD 1988 ...

The TurboD Pinzgauer is available as a short-wheel base (SWB, 2200mm) 4×4 (left), a medium wheel base (2400mm) 4×4, and as a 6×6 (2200mm+980mm). The tubular back-bone chassis makes it relatively easy for Steyr to play mix and match with wheelbases.

1988+ Pinzgauer Turbo D

Loa 4480mm, width 1800mm, height 2045mm

Wheelbase 2400mm, track 1520mm/1520mm, grnd clearance 360mm

Approach 40°, departure 45°, ramp break over 136°

Turning radius 5.75m

Weight GVM 3850kg, towing 3000kg (braked)

Engine Volkswagen 2383cc, diesel, turbo-charged, 6-cyls, 2-valves/cyl, ohv

Power 85kW at 4500rpm

Gearbox 5-speed manual (ZF S5 18/3) or 4-speed auto' (ZF 4 HP22), 2-speed transfer case, part-time 4×4 (or 6×6), full diff' locks, hub-reduction gearing with drop-hubs

Suspension coil/coil, brakes disc/disc

Tyres 8.25/R16, fuel-tank 80L, 125L or 140L

Also available as

SWB 4×4
Loa 4252mm, wheelbase 2200mm, GVM 3500kg, towing 2000kg

and as

6×6
Loa 5035mm, wheelbase 2200mm + 980mm, GVM 4850kg, towing 5000kg

Rivals: Bucher Duro, LandRover Defender

The British Army selected Pinzgauers to replace its old Land-Rover forward-control 101s in 1996. Some national pride was saved when Land Rover XD130-based ambulances were chosen instead of Pinzgauer ambulances.

2000: Steyr sold manufacturing and testing facilities, design, etc. for the Pinzgauer to Automotive Technic Ltd., of Aldershot, Hampshire, England (the former importer of Pinzgauers into England).

2001: Reports that a 5-cylinder VW turbo-charged diesel will be used in future Pinzgauers.

2004 The New Zealand Army ordered 321 Pinzgauers to replace its 1980s vintage LandRovers in the 'light operational vehicle' (LOV) role.

2005 April: Stewart and Stephenson of the USA, builders of US army trucks, bought Automotive Technic Ltd..
2006: Stewart and Stephenson was bought by Armor Holdings.
2007: Armor Holdings was bought be BAE Systems.

Pinzgauer II

"... 6-cylinder 145kW ... The Pinzgauer II remains as versatile as the standard Pinzgauer and its design allows for both a Bonnet Out Front version Pinzgauer Mantis or the more traditional Cab Forward [Forward Control] design Pinzgauer II. ..." taller and wider ... -- BAE.