1902: The four wheel drive Spyker had a 6-cylinder engine of 8.7-litres, full-time four wheel drive with a centre differential, and four wheel brakes. This would be hard to believe but for contemporary photographs of it, and articles about it, for example, at London's Crystal Palace.
The Spyker 4WD was remarkably modern in design with what is thought to be the first six cylinder car engine and four wheel brakes. The latter operated by means of a brake on the front propeller shaft acting on the front wheels through the front differential, this at a time when other cars only had rear wheel brakes. Neat swivel housings contained universal joints carrying the drive to the front steered wheels, just like today's four wheel drives.
C.Poel reported [Poe62] that the Spyker 4WD was built in 1902 but not shown until 1903. It appeared at the Paris Motor Show in December 1903 [Sco61] and at Crystal Paris in 1904. Apparently it competed in a 1906 hill climb at the Birmingham Motor Club which it won, four wheel drive giving it a considerable advantage in the wet conditions.
The Spyker factory was in Trompenburg, Amsterdam. The family name was Spijker, with `ij', but the firm's trademark was Spyker because it largely exported to English speaking countries [Poe62]. The firm closed in 1925.
Spyker is thought to have made just one four wheel drive and miraculously it still exists, at the Dutch National Automobile museum, and has been restored to running condition. The complexity of the car, given the materials and engineering of the day, must have made it heavy and expensive compared to the ordinary two wheel drives and this possibly explains its lack of commercial success. Spyker did also make and sell numerous two wheel drive cars, one of the most famous appearing in the film Genevieve (1953). Genevieve is set against the backdrop of the London to Brighton run for veteran cars and stars Kenneth More, Kay Kendall, John Gregson and Dinah Sheridan. -- Lloyd Allison.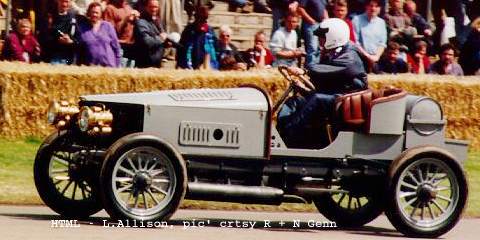 Goodwood 1998
1902 Spyker 4WD

8676cc, 6-cylinder, petrol, side-valve (T-head).

Bore 120mm, stroke 128mm, c.r. 4.59:1.
Power generally reported as 50hp (but also 60hp or 80hp).

Transmission 3-speed manual, 2-speed transfer case, full time four wheel drive with centre differential, clutch leather faced cone.

Suspension live-leaf/live-leaf with radius arms.

Brakes on rear wheels and also on front propeller shaft.

References

The Automotor Journal p.7 Jan. 1904.
[Poe62] C. Poel. Spyker Memories. Autocar p.436 Sept. 1962.
[Sco61] D. Scott-Moncrieff. Veteran and Edwardian Motor Cars. Batsford 1961.
Miller and Bugatti built 4WD racing cars c1932, and Formula One (F1), and to a greater extent Indianapolis, tried 4WD in the 1960s.
Spyker Cars N.V.
The original Spyker company went broke in the 1920s but a new company, Spyker Cars N.V., was formed in 2000 as a low volume maker of sports cars. It entered long-distance sports car racing in 2001. And the Spyker name was briefly attached to a (2WD) F1 team when Spyker Cars bought Midland F1 Racing Limited and entered the 2007 F1 season as Spyker F1 Team; that F1 team was resold and became Force India F1 in 2008. Spyker decided, 20 Nov. 2009, to move its car assembly lines to Coventry, uk.
2009: Spyker introduced the C8 Aileron at the Geneva Motor Show. (The last C8 Ailerons were produced in 2017.)
2010, January 26: Spyker Cars N.V., struck a deal to buy loss-making Saab from GM for us$74 million and form Saab Spyker Automobiles N.V.; GM also kept us$326 million in preference shares.
2011, September 29: Swedish Automobile N.V. (Swan) owner of Saab and Spyker, and struggling to keep Saab afloat, announced a conditional agreement for North Street Capital to buy Spyker (but see 2012). Saab finally filed for bankruptcy 19 Dec 2011.
2012, March 5: With Saab now bankrupt, Swan hung onto Spyker, and (18 April) changed its name to Spyker NV.
2012, December 6: Youngman (.cn) agreed to take a 29.9% stake in Spyker N.V..
2013 March: Spyker N.V. unveiled the B6 Venator concept at the 83rd Geneva International Motor Show -- rear mid transverse mounted V6, 6-speed auto., planned to go on sale in 2014. A Spyder (open) version was at the 2013 Quail gathering, Pebble Beach.
2014 December 18: Bankruptcy. Will Spyker be back? ...
2015 July 30: "After almost 8 months since entering into moratorium of payment ... [Spyker] successfully exited moratorium on July 29th" -- Spyker.
2017, March 7: Spyker announced an agreement for Koenigsegg Automotive AB to supply it with a 5-litre V8 engine (600hp, 600Nm) for the Spyker C8 Preliator launched at Geneva in 2016.