2019, September 10: Land-Rover finally revealed the Defender replacement at the Frankfurt motor show, SWB '90' 3-door from £40±K, LWB '110' 5-door from £45,240, us$50K-us$81K (au$70K+?), 'commercial' from £35K+VAT, petrol I6 or diesels, 8-speed auto, full-time 4WD, 2-speed transfer case, all independent suspension by coils or air. "Deliveries of the ... 4x4 are expected to start in the [northern] spring [2020]" — LR.
levels: base, S, SE, HSE, 1st Ed., & X.

aluminum monocoque construction, "D7x architecture"

engines:

P400: 3.0 I6 turbo, "mild" hybrid (297kW, 550Nm),
2.0 I4 petrol,
D200: 2.0 I4 diesel (147kW, 430Nm),
D240: 2.0 I4 diesel (177kW, 430Nm)
8-speed auto, dual-range full-time 4WD

dimensions:

'90': loa 4323mm, h 1927mm, w 1999mm, wb 2587mm (102");
'110': loa 4758mm, h 1916mm, w 1999mm, wb 3022mm (119");
'130': loa 5100mm, h 1915mm, w 1999mm, wb 3022mm (?);
(w over mirrors 2,105mm (out), 2008mm (folded))

18-, 19-, 20- and 22-inch wheel options

90 &amp 110: approach 38°, departure 47°, wading 900mm

.au: 110, June 2020, from au$70K to au$137K (1st Edn) +orc
Why didn't LR call them more accurately the Defender 100 and Defender 120?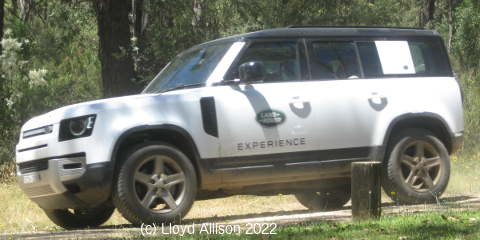 PR duties in 2022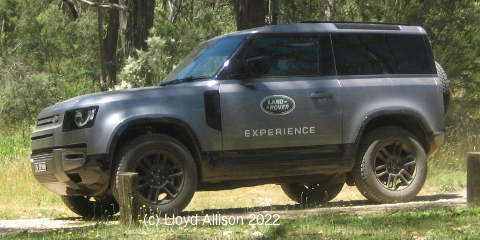 2020, February 26: The new Land Rover Defender 90 went on sale in the UK from £40,290 (at the worst possible time, during the covid-19 pandemic). Commercial derivatives available later this year from £35,000 (+VAT) — LR.
2020 September 9: Land-Rover announced additions and changes to the Defender line-up for MY21: "Defender P400e plug-in hybrid [with an] electric range of 27 miles" (has the 2-litre I4 petrol engine), also "a new six-cylinder Ingenium diesel ... D200, D250, D300" (& "for EU5 markets [4-cyl] D200 and D240"), and "90 Hard Top [van] from £35,820 OTR (ex.VAT), 110 Hard Top from £43,012 OTR (ex.VAT), 90 from £43,625 and 110 starting at £45,640 in the UK" —LR.
2021, .uk: Diesel I6 (D200, D250 or D300); petrol I4, I6 or V8. 5-seat 90 from £45K, V8 90 £100K±.
2021 February 11, .au: The RACV awarded the new Defender (110) as the "Safest SUV over $35,000".
2021 May 4, .uk: "Land Rover has launched the powerful Defender V8 for 2022 model year ... 90 and 110 ... 525hp 5.0-litre V8 supercharged engine ... 90 V8 accelerates from 0-60 mph in just 4.9 seconds ... on sale in the U.K. in summer 2021." — LR.
2021 June 15: JLR revealed it was developing a prototype hydrogen fuel cell electric vehicle (FCEV) based on the Defender.
2022 May 31: Land-Rover introduced the '130' version of the Defender; it shares the 110's wheelbase but has a longer rear overhang giving more room to the third row of seats, and some luggage space.